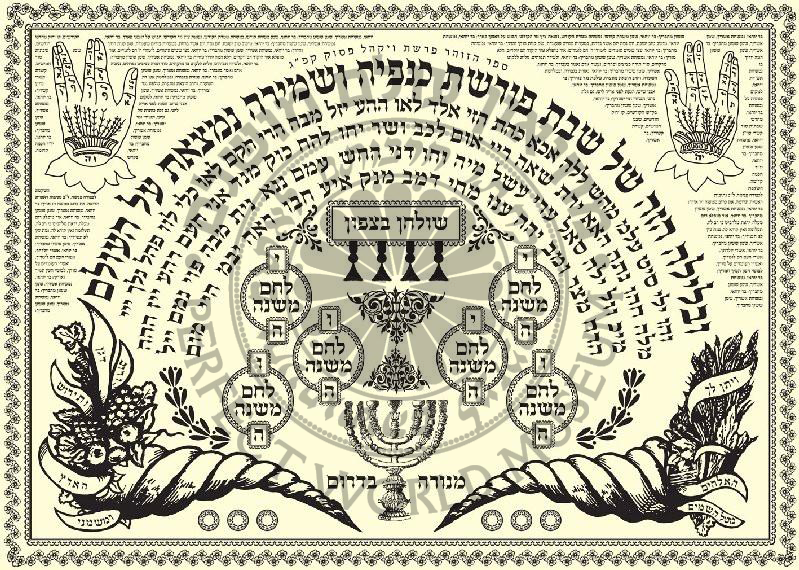 Kabbalah Halla Cover - Embroidered 72 Names "Shabbat Protection"
$3,600.00
Price depends on size and other additions according to customer's order.
This Picture can be bought as a framed print in gray, blue, gold and on a parchment color.
המחיר תלוי בגודל ובתוספים אחרים בהתאם להזמנת הלקוח.
Embroidered and hand decorated 72 Names Kabbalah, Halla (Challah) Cover "Shabbat Protection"
Minimum size: 1m x 0.70m
By order only - allow 6-8 weeks delivery
Can be ordered as a wall tapestry up to 2m wide to match your home decor color scheme.
Extraordinary gift for a wedding, wedding anniversary, new home 
The names of the bride and groom can be incorporated in the embroidery
Inscribing:
The Power of Miracles -The 72 Names of God (Exodus 14:19-21)
Infinite Bliss and Good Fortune - The 12 Loaves of Bread "Mazala" Kavanah (Meditation) יהו"ה-יהו"ה-יהו"ה The special breads arrangement as was practiced by great kabbalists - the breads, the Menorah and the central design is taken from the original Hallah cover of the Ben Ish-Hai (19th century, Baghdad)
Protection of Love & Grace - The Blessing of The Cohanim Amulet as found in ancient amulets for protection
The Menorah - The Symbol for the connection between the Upper World to the Mundane World
Fertility and Abundance - The blessing of Isaac to Jacob (Genesis 27:28) written in the ancient symbol of the C

ornucopia.

The Shabbat Protection - Zohar about the protective force of the Shabbat.
Including graphic elements from an original kabbalistic etching dated 1856
"Take the finest flour and bake twelve loaves of bread, using two-tenths of an ephah for each loaf. 6 Arrange them in two stacks, six in each stack, on the table of pure gold before HaShem..."
"Each and every Shabbat he shall arrange them before HaShem continually, from the Children of Israel as an eternal covenant"
Parashat Emor, Leviticus 24:5-8 ‏